Dog-Friendly Spots in Chicago
A night out on the town with friends or your loved one is always a good time, but what makes it even better is when you can bring along your furry friends, too. There are several great spots in Chicago that are dog-friendly and will gladly welcome your pup when you bring them to dinner or out for drinks with you. Here's our top list of Fido-friendly places to check out in the Chicago area.
Carol's Pub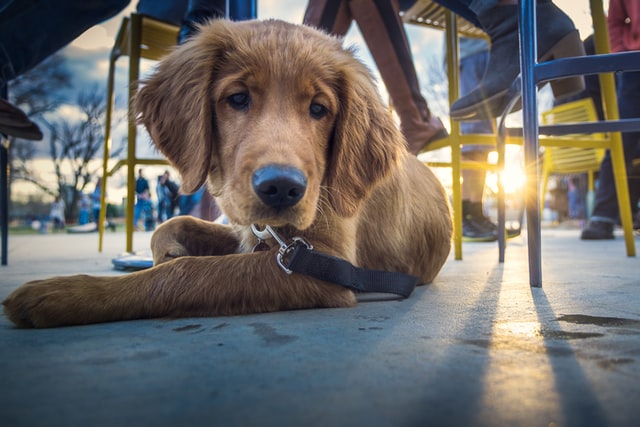 Image via Unsplash by Anders Ipsen
Carol's Pub has long been known as uptown's favorite late-night country dive bar. Carol's first opened its doors in 1972 and has been blasting country music and serving delicious home cookin' ever since. This pub has been touted by several well-known press outlets, including Thrillist, Chicago Magazine, Chicago Reader, Spotted by Locals, TimeOut, and Eater Chicago. The verdict? Everyone loves Carol's Pub.
Carol's Pub recently opened a dog-friendly sidewalk patio where you can hang out, enjoy a cold drink, and sing along to honky-tonk tunes with your furry best bud. They occasionally have dog-related events, such as the celebration of National Dog Day, when patrons are encouraged to bring their dogs and cheers a beer to man's best friend.
In addition to being dog-friendly, Carol's has a lot to offer its customers, including daily drink specials, party specials, regular live entertainment, karaoke, and a delicious menu that includes burgers, sandwiches, wings, and bar snacks. Carol's is open Tuesday through Sunday and is located at 4659 N. Clark St. in Chicago.
Ludlow Liquors
Ludlow Liquors, located in the Avondale neighborhood of Chicago, is a well-loved bar complete with a backyard patio and garden. The bar describes itself as a "neighborhood tavern slingin' stirred cocktails by the ounce, killer whiskey classics, draft punches, cheap beers, and delicious bar food." So, in short, you'll find everything you need for a great night out at Ludlows. Best of all? They happily welcome four-legged friends to join you in your night (or day) of fun.
Their backyard patio features two-tier stadium seating and several picnic tables with overhead umbrellas. Favorite menu items include buffalo wings, the chicken parm sandwich, and Miko's Italian ice bars. Ludlow Liquors is open Monday through Thursday from 5 p.m. to 2 a.m., Friday from 4 p.m. to 2 a.m., Saturday from 4 p.m. to 3 a.m., and Sunday from 12 p.m. to 2 a.m. Stop by Ludlow's today with your furry friend! They're located at 2959 N. California Ave.
The Kennison
The Kennison is a contemporary American restaurant that just may treat your pup better than they treat you! Whether you're looking for a great place to grab drinks with friends or you want to plan a special night out with someone you love and bring along your furry friend, The Kennison truly has something for everyone.
Attached to Hotel Lincoln, this restaurant has both indoor and outdoor dining options, and the outdoor dining area is dog-friendly. While you enjoy one of their menu favorites, like the Kennison burger, steak frites, or a fried chicken sandwich, your pup can snack on some peanut butter bacon-flavored ice cream. The Kennison staff will even provide your pooch with their very own water bowl and refill it as needed throughout your dining experience.
The Kennison is open Monday through Sunday from 5 p.m. to 10 p.m. for dinner and Saturdays and Sundays from 10 a.m. to 2 p.m. to brunch. Stop by today at 1800 N. Lincoln in Chicago.
Roots Handmade Pizza
Roots Handmade Pizza, located in South Loop, is a pizza joint that boasts bright graffiti, 400 seats, a retractable roof, and even a rooftop area where you can enjoy a slice of pie and a cold beer. Both humans and pups are welcome at Roots. They proudly offer fresh water bowls that they regularly refill for your furry friend, so you can enjoy a delicious pizza without having to worry about Fido getting too thirsty.
A few menu favorites you can enjoy while at Roots Handmade Pizza include lollipop chicken wings, jumbo fried shrimp, roasted beet and grain salad, Brian Fisher's Entente Korean-fried chicken pizza, and Lamar Moore's Southern homestyle pimento cheese and spicy sausage pizza. They also offer sandwiches, pastas, and build-your-own salads and pizzas as well as lots of wines, beers, and cocktails. Happy Hour is Monday through Thursday from 3 p.m. to 6 p.m. Roots is located at 744 S. Dearborn St.
Gaijin
Gaijin is a trendy, warehouse-like Japanese restaurant that offers a variety of delicious foods cooked up by Chef Paul Virant. Located in the West Loop, this hotspot gladly welcomes smaller-breed dogs and will provide your favorite fur friend with a water bowl to quench their thirst while you enjoy a yummy meal. Gaijin is best known for their Okonomiyaki, or Japanese pancakes, and their Kakigori, which is Japanese shaved ice flavored with a variety of syrups and sweet sauces.
Other customer favorites on their menu include marinated Japanese eggplant, kombu marinated vegetables, octopus yakisoba, and bok choy. They also have a wide selection of sakes, wines, beers, teas, and quite a few delicious desserts you'll want to save room for. Gaijin is located at 950 W. Lake St. and is open Tuesday through Thursday from 5 p.m. to 9 p.m., Friday and Saturday from 12 p.m. to 11 p.m., and Sundays from 12 p.m. to 9 p.m.
Recess at City Hall
Recess is a restaurant that has a 14,000-square-foot-patio where you and your pup can hang out and enjoy a delicious meal. The patio features artificial grass where your furry friend can play, and the restaurant will provide a water bowl to keep your dog hydrated while you eat and drink.
Chef Daniel Weiland created Recess's menu, which includes a variety of American dishes that range from quick bites to full meals. A few customer favorites on their menu include the watermelon salad, the BBQ pulled-pork sandwich, the City Hall cheeseburger sliders, and the loaded tater tots. They also have a large cocktail, wine, and beer menu. Stop by today at 838 W. Kinzie in West Town.
We can't wait to hear which hotspot you (and your pup) loved the most! Let us know over at Allied Plumbing & Heating Supply Co.