Trending Chicago Breweries
Chicago's brew scene has experienced explosive growth over the past decade. The undying love of this endlessly popular beverage has led to the opening of hundreds of breweries around town — and counting. We scoured the Windy City and hand-selected the best places to sip a pint to save you some time. So whether it's date night or you're meeting friends to watch the Cubs, here are our picks for the top trending breweries in Chicago.
Whiner Beer Company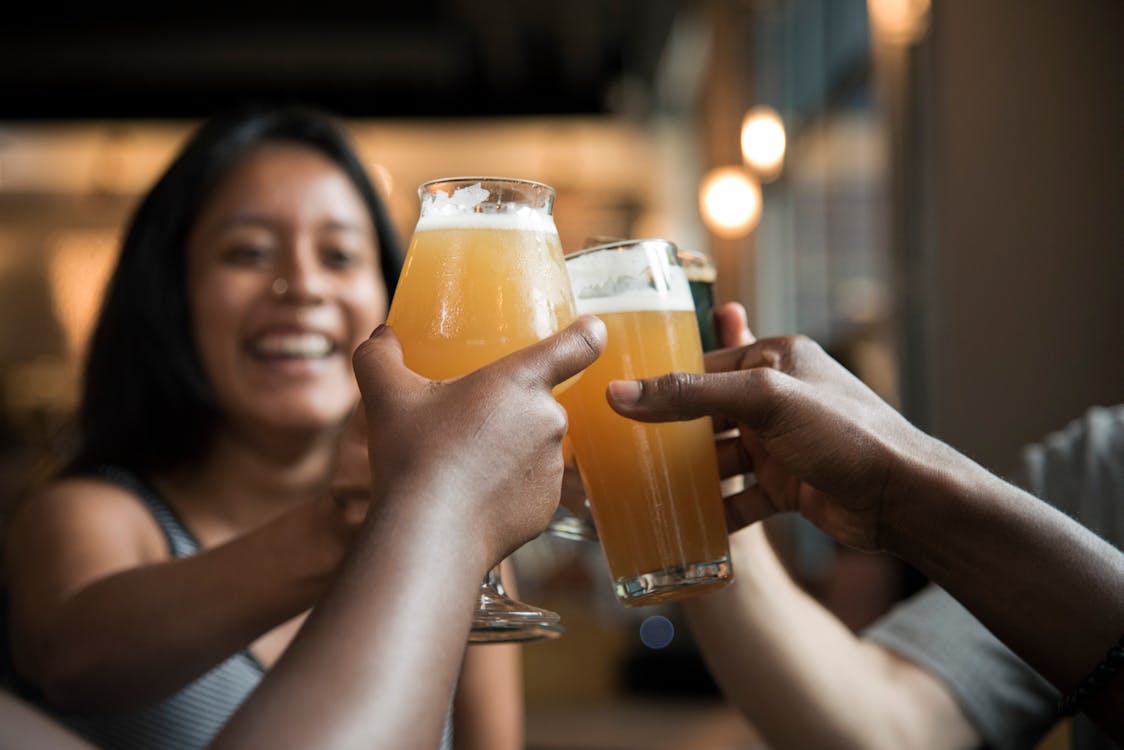 Whiner Beer Company is housed in The Plant, a net-zero emissions business in the Back of the Yards neighborhood. This small but mighty taproom touts environmentally responsible brewing techniques and its eco-friendly location. Co-founders Brian Taylor and Ria Neri are producing something different from the other brewers in Chicago: barrel-aged brews in the cutest can designs.
With its lineup of sour and Belgian beers combined with a fondness for experimentation, you might discover a new favorite beer if you're not careful. If you embrace funky and singular brews, dive into a mug of its flagship Le Tub Wild Farmhouse Ale. This concoction features notes of white grape and tart lemon. It's Whiner's most popular export, but they also brew up an array of offerings from large-format Belgian ales to kombucha.
Location: 1400 W. 46th St., Chicago.
Hours: Thursday and Friday from 4 p.m. to 11 p.m., Saturday from noon to 11 p.m., and Sunday from 1 p.m. to 8 p.m.

Metropolitan Brewing
Since 2009, Metropolitan Brewing has provided Chicago beer connoisseurs with a haven for German-style beers and lagers. While it may have stayed under the radar until now, we think it's one of the most respected breweries in the city. While many local establishments try to get your attention with the wildest ingredient combinations you can imagine, they keep things simple here and put drinkability at the top of their priority list.
The brewery focuses on German-style lagers, characterized by Metropolitan Brewing's trademark smoothness. Krankshaft, their flagship Kölsch, pays homage to Cologne, Germany, and features a burst of lemony aroma and a dry, clean finish. Its Rockwell on the River Tap Room is one of the best in the city. You'll love the homey atmosphere, from its reclaimed wood furnishings to the floor-to-ceiling windows overlooking the Chicago River. Its waterfront patio is also a popular destination when the weather is warm.
Location: 3057 N. Rockwell St., Chicago.
Hours: Monday and Tuesday from 2 p.m. to 9 p.m., Wednesday, Thursday, and Friday from 11 a.m. to 11 p.m., and Saturday from 11 a.m. to 5 p.m.
On Tour Brewing Company
This budding little brewery has only been on the Chicago scene for a short time, and it's already earned a dedicated West Loop fan base. On Tour Brewing Company took home the prize for "Very Small Brewing Company of the Year" in 2017, plus awards at the prestigious Great American Beer Festival. These accolades helped establish the brewery as a top destination for both locals and tourists. Ask for a brewery tour if you want a behind-the-scenes look at this operation.
Owner Mark Legenza's elegant space is the place to drink music-inspired IPAs, Belgian beers, and pilsners. You'll find seasonal releases like Apres Black, a dark lager, the Typical Daydream Farmhouse Ale with gooseberries, and Barrel-Aged Backroads, our favorite Belgian strong golden ale. Grab one, then sit in the bright, airy 1,500-square-foot taproom. You'll enjoy regular live music, grub from local food trucks, and a couple of TVs so you can keep up with the game.
Location: 1725 W. Hubbard St., Chicago.
Hours: Monday from 4 p.m. to 9 p.m., Wednesday and Thursday from 3 p.m. to 9 p.m., Friday from 2 p.m. to 10 p.m., Saturday from noon to 10 p.m., and Sunday from noon to 8 p.m.
Dovetail Brewery
Next time you're scouring the Chicagoland area for a pint, head to Dovetail Brewery. Its owners, Hagen and Bill, met at the Doemens Institute in Munich while earning their Master Brewer certifications. Their mutual respect for continental Europe's traditional brewing methods blossomed into a thriving business. Whatever you have them pour into your mug will be pure magic.
Novice beer officiators will appreciate that its selection of rustic beers is named after the product's style or critical ingredients, like Dovetail Lager, Hefeweizen, or Kölsch, so there's no confusion about what you're getting. This brewery's barrel program is also the perfect spot for those with some expertise. Discover the Framboise that was spontaneously fermented and aged for 10 months on Michigan raspberries.
Location: 1800 W. Belle Plaine Ave., Chicago.
Hours: Monday through Thursday from noon to 10 p.m., Friday and Saturday from noon to 11 p.m., and Sunday from 1 p.m. to 7 p.m.

Corridor Brewery & Provisions
Corridor Brewery and Provisions in the bustling Southport Corridor is the brainchild of Greg Shuff. This warehouse-style brewery offers sophisticated seasonal beers that have established the funky spot as a prime destination for beer lovers. It's amassed an impressive array of prestigious awards thanks to its flavorful options, from fruity Saison-style creations such as Through the Lily Fields to the delicious Cloud Bounce Hazy Double IPA.
Ask your server to suggest something that pairs with this brewery's creative gastropub menu. You'll find some tempting options beyond the beer, including salads and sandwiches. We think its 12-inch artisan pizzas are some of the best in Chicago. Start with a snack, like the pesto fries or our favorite, buffalo-fried cauliflower with cheese curds and blue cheese for dipping. You can even pick up weekend brunch and a pint from 11 a.m. to 2 p.m.
Location: 3446 N. Southport Ave., Chicago.
Hours: Sunday from 11 a.m. to 8:30 p.m., Monday through Thursday from 11 a.m. to 9 p.m., and Friday and Saturday from 11 a.m. to 10 p.m.
Chicago has a storied beer culture, but if you want to taste the freshest suds in town, use our guide. We know the top trending breweries that will redefine your idea of the perfect craft beer. Let us know if you're looking for trusted heating and plumbing supplies to help keep your home stash of beer cold. Remember, we can make it a reality if we can dream it. Yes, even outfitting that beer cave.
Photo Credit: People Doing Cheers Inside Building by ELEVATE is licensed with Pexels