Let's Compare Bradford White vs. Rheem Water Heaters
If you're shopping for a new water heater, you may have a hard time deciding which brand to choose, considering that there are countless options available. Two brands that often find their way onto the short lists of water heater shoppers are Bradford White and Rheem. Both of these manufacturers are known for making top-quality water heaters, but their products are different in many ways. Check out this detailed comparison between the Bradford White and Rheem water heaters to determine which brand better suits your needs.
Brand Overview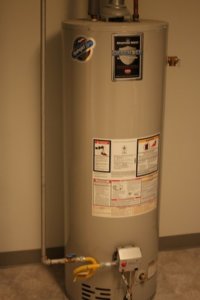 Image via Flickr by Drab Makyo
When you're comparing water heater brands, you should have a rough idea of their backgrounds. This will give you a clearer insight into their experience and expertise in manufacturing water heaters, as well as a snapshot of their overall reputation.
Founded in 1881, Bradford White is headquartered in Philadelphia and has several critical manufacturing facilities in different parts of the world. Despite its long history, the company has been successful in staying abreast of technological advancements. Over the years, it has developed an array of innovative water-heating technologies, such as the Hydrojet Total Performance System, a Vitraglas Lining, and Smart Controls. Bradford White is committed to producing water heaters that deliver the perfect combination of performance, efficiency, and durability.
Rheem is a California-based company that was established in 1925. It started to gain popularity in 1931 with the introduction of the first-ever gas storage water heater. Today, the company offers a wide range of products to meet all kinds of hot water needs, from gas-powered to hybrid water heaters. Rheem stands out from other water heater manufacturers with its affordable and highly functional products.
Product Line
Image via Flickr by Tim Evanson
Both Bradford White and Rheem feature an extensive and diverse selection of water heaters. With a capacity range of 10 to 120 gallons, their water heaters can meet the needs of all kinds of households and businesses.
Bradford White is best known for its gas and electric water heaters, but it also offers oil, indirectly powered, and solar models. Its water heaters are available in a wide range of configurations, such as point-of-use and tankless models, atmospheric and power-vented models, and specialty models. The company provides water heaters for residential, commercial, and industrial use.
Rheem manufactures almost every kind of water heater you can think of, including gas, propane, electric, indirect, hybrid, and solar. With the exception of solar models, each type of water heater is available in both residential and commercial versions. There are also many configurations available, ranging from direct-vented tank-type models to condensing tankless models.
Durability
Your water heater is one of the most expensive appliances in your home, so it's essential to select a model that can last a long time and deliver maximum value for your money. Bradford White water heaters are widely regarded as some of the most durable on the market. They come with an array of well-thought-out features that enable them to stand up to all kinds of wear and tear that results from regular use. Overall, they have a longer service life than Rheem water heaters.
The most notable durability-enhancing features in Bradford White water heaters are the brand's Vitraglas Tank Lining and Hydrojet Total Performance System. Vitraglas Tank Lining is an enamel tank lining that prevents the corrosive effects of hot water from reaching the steel tank and other components. It also has a unique compound structure that enables it to expand and contract with the tank. Hydrojet Total Performance System, on the other hand, is a tube that delivers cold water to minimize sediment buildup, which is the main threat to the longevity of a water heater.
Rheem water heaters are also highly durable. They feature a thick tank that provides excellent protection against external damage. However, they generally have fewer special features for reducing internal wear and tear compared to Bradford White models. Then again, Rheem offers the Marathon water heater, a non-metallic model that doesn't rust or corrode and features copper upper and titanium lower elements to resist lime buildup. This unit comes with a lifetime warranty, but it also has a hefty price tag.
Efficiency
Water heating accounts for a significant portion of your utility bills, so you should make a point to choose an energy-efficient water heater. Both Bradford White and Rheem produce highly efficient water heaters, but Bradford White seems to have a slight edge in this department.
Bradford White's Hydrojet Total Performance System not only makes its water heaters longer-lasting, but it also improves their energy efficiency. By reducing sediment buildup, this system ensures the water heaters don't have to work extra hard to generate hot water, resulting in lower energy consumption. For optimal efficiency, opt for an Infiniti K Series model, which features the advanced Steadiset Technology. This technology helps prevent energy waste by using the existing water in the heat exchanger to produce a surplus of water instead of adding water volume. Altogether, Bradford White offers over 60 ENERGY STAR-certified water heater models.
Rheem also has many energy-efficient models in its water heater lineup, including hybrid and solar-powered models. Its hybrid water heaters come with a wide array of features that can help reduce energy use, such as EcoNet Wi-Fi connectivity, energy-saving scheduling, energy use tracking, vacation or away mode, and LeakGuard auto shut-off valve. However, Rheem's electric water heaters generally aren't as energy-efficient as those of Bradford White.
Pricing
Bradford White water heaters are generally more expensive, partly because they're made in the United States. Also, they have to be professionally installed, which adds to the overall cost. Rheem is able to offer more attractive prices because its water heaters are produced in Mexico and mainly distributed through wholesalers.
Overall, if you want to get a water heater that's competitively priced and features modern functionality, Rheem may be the right choice for you. On the other hand, if you're looking for a water heater that's powerful, highly efficient, and long-lasting, you may be better off choosing Bradford White.
Allied Plumbing & Heating Supply is one of the leading suppliers of Bradford White water heaters in the Chicago area. You can contact us today if you want to find out about our installation services, give us a call at 773-777-2670 and take a look at our full inventory of greatly priced water heaters.